Travel & Venue
The venue is the Humanities and Social Sciences Building (HSSB) of Academia Sinica. To assist in navigating the area, Academia Sinica has a campus map.
Getting Here
Taxis will get you to the venue in 20-25 minutes without traffic from most places in Taipei. They run according to the meter and will cost around 300-450 New Taiwan dollars. Show the taxi driver the following paragraph:

中央研究院 人文社會科學館
台北市南港區研究院路2段128號 This will take you to Academia Sinica, Humanities and Social Sciences Building, 128 Section 2 Academia Road, Taipei.

Ask the taxi driver to enter the campus through the main gate. After passing through that gate, go straight even after you cross the little bridge. You want to turn left at the little temple, then the HSSB will be on your right.
Public Transportation
Option 1: take the Taipei's Metro Rapid Transit Blue Line or Brown Line to Nangang Exhibition Center (南港展覽館) station. From there, you can take any of the buses numbered 205, 212, 276, 306, 645, or Bei-Huan Metro Bus Line (formerly 620) on Academia Road to Academia Sinica. You can also walk down Academia Road from there. It is a 25-30 minute walk and is very pleasant when the weather is nice.
Option 2: take the Blue Line or Taiwan High-Speed Rail or the TRA (Taiwan Railways Agency) to Nangang Station (南港站), then take a bus on Zhongxiao East Road (number 212 Express, 270, or Blue 25) to Academia Sinica. This is also what you would do from the Green World Nangang Hotel or the Courtyard. Walking from Nangang Station takes about 30-40 minutes.
Option 3: take any of the aforementioned buses directly to Academia Sinica.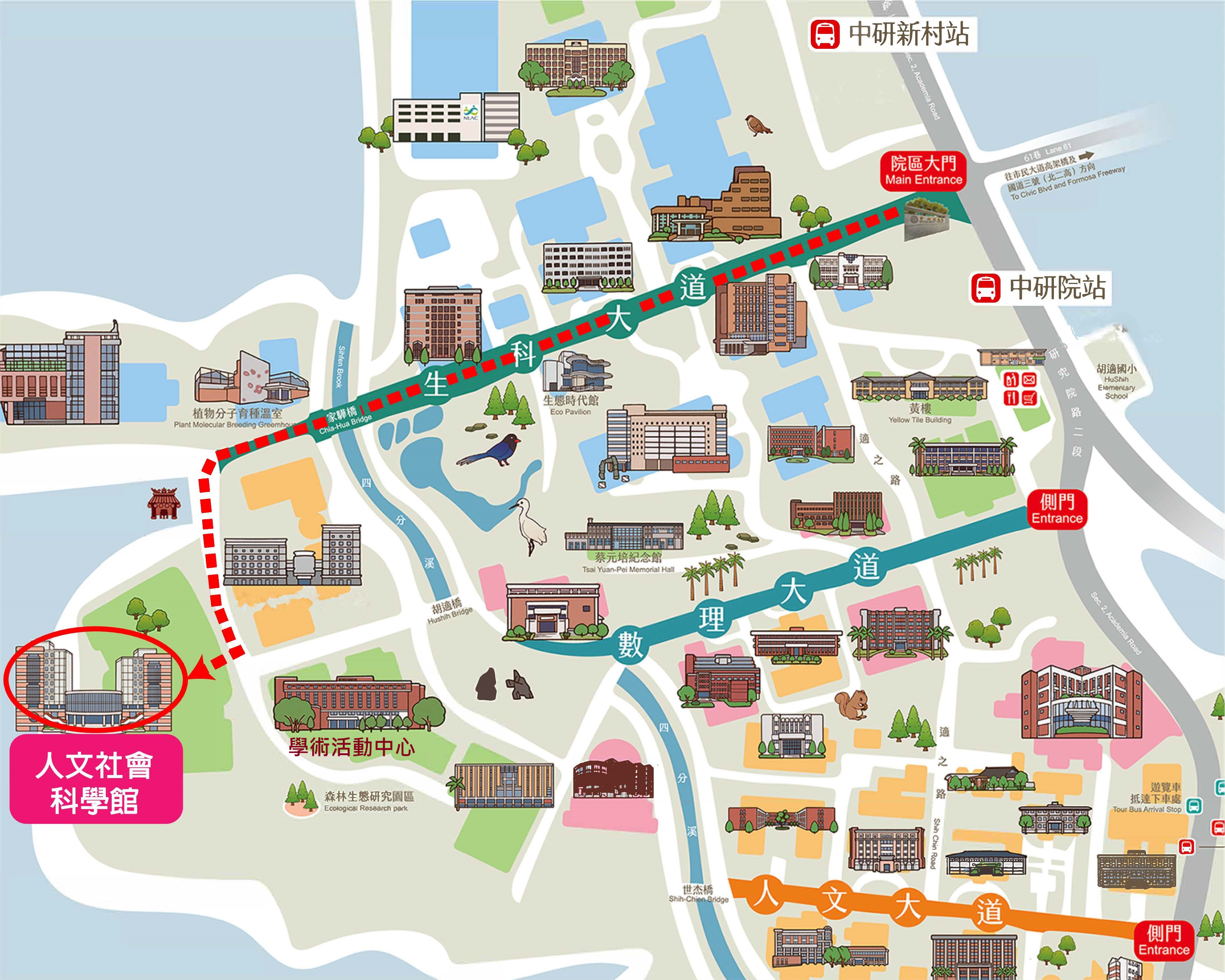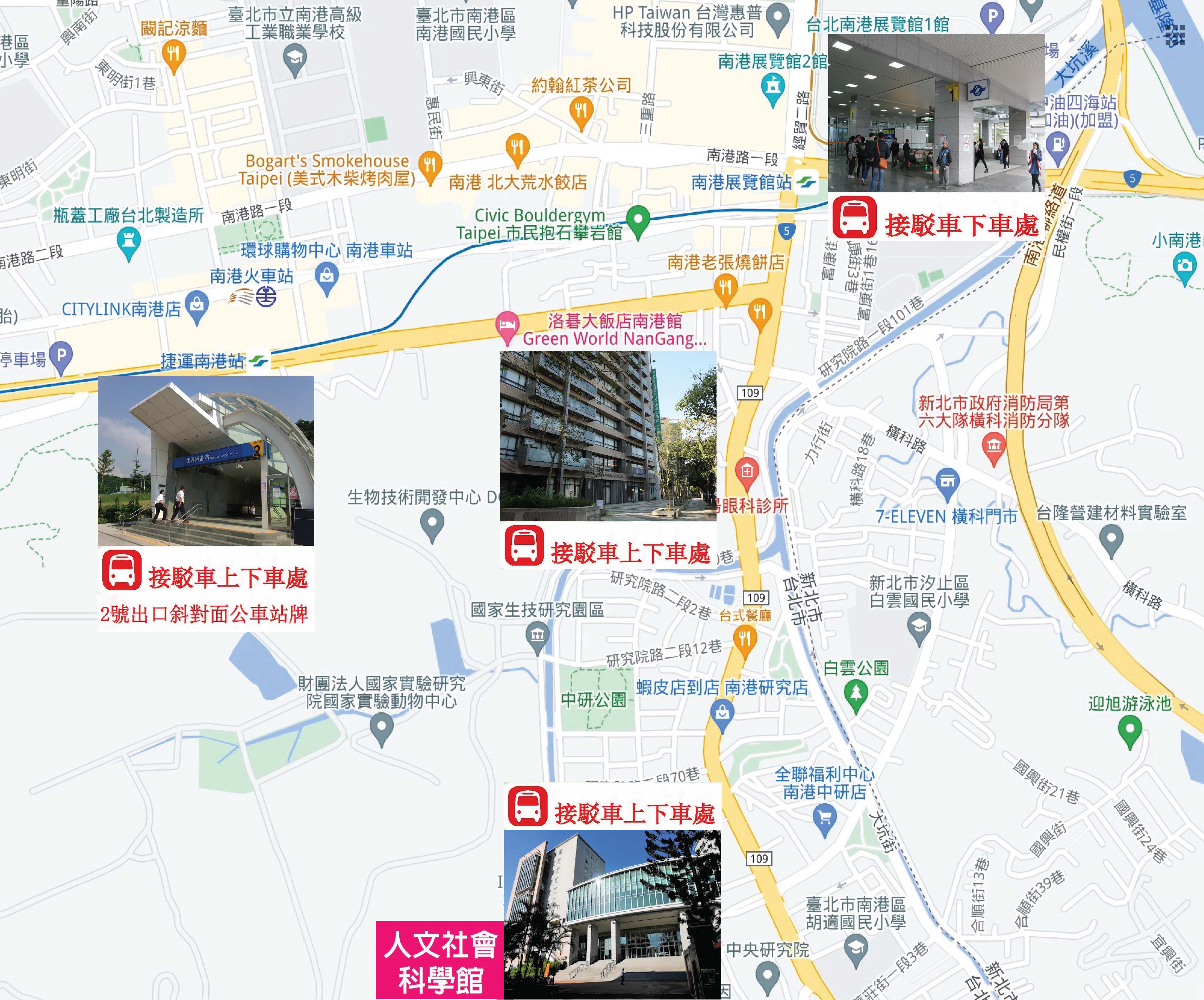 Shuttle Buses
We will run shuttle buses with Shin-Shin Bus Co. The morning buses will run at 8:00 and 08:25 from Nangang Station. The evening buses will run at 16:45 from Academia Sinica HSSB. One route will first go to Nangang Exhibition Center (南港展覽館) station (Exit 1), then to Nangang Station. The other route will go to Nangang Station, then to Green World Hotel. Make sure to get on the correct bus.
Accommodations
There is additional information for those applying for housing stipends on the stipends page.
Academia Sinica Scholastic Activities Center
We have reserved 35 single rooms and 40 double rooms at the Academia Sinica Scholastic Activities Center, for TCC conference attendees and companions only. This is a 3-star accommodation and is situated less than a 3 minute walk away from the main venue location.
Due to internal rules, if you would like to stay here we will have to pre-pay for you. We will charge a package rate of 220 and 250 USD for five nights in a single and double room, respectively. This would be checking in on or after November 28th at 15:00 and checking out on or before December 3rd at 11:00.
The prices listed above include free wifi, but do not include breakfast. A light Taiwanese breakfast is served to conference attendees prior to the talks from November 29th to December 2nd. If you wish to stay longer, or arrive earlier, you are able to book that yourself.
You may also use the Academia Sinica Athletics Center facilities next door at a reduced rate during your stay (50 TWD per person per use as of August 12th; actual prices may vary). The athletic center includes a running track, a gym/weight room, and a swimming pool. The badminton, squash, volleyball, and tennis courts require an extra fee.
A website for collecting information from TCC attendees hoping to stay at the center will be up prior to the TCC authors being notified of the results of their submissions. On September 18th, we will assign priority to those who signed up first in the order of time received, assign rooms, and notify those who are entitled to a guaranteed room reservation with their payments due within 5 days.
Please pre-pay for your lodgings during your TCC registration process, if and only if you have received notification of an assignment. We will only refund the lodgings part of your payment, after deducting a handling fee, and only in case of force de majeure. If you do not pay for your lodgings 5 days after you receive your notification, we may reassign your room.
For those who still want rooms after September 15th, we will continue to assign rooms of the appropriate size in the order that your application is received, provided that we still have rooms remaining.
How We Assign Housing
We will first assign double rooms to people specifying a double room with a roommate, or two people who specify each other as roommates. Then we will assign single rooms to those higher on our priority list. After that, we will assign double rooms for single occupancy to those remaining on our priority list who specified this option. You can add another guest to your reservation if you have a double room for single occupancy later, up to the Friday before the conference.
We are required to release most of our locked rooms by September 21st, so people who still wish to get housing must request it by September 21 18:00 PDT. After that date, we are highly unlikely to be able to allocate any further rooms on campus, excepting cancellations in extreme situations.
Other Nearby Accommodations
Much of the information below about hotels with special rates for TCC 2023 is also available in PDF format.